Get started
We are doing a very first exploration with the mBot to have a first impression of the possibilities.
On this page you will learn:
How to control the mBot with the remote control.
How to connect the mBot to your computer with a USB data cable
How to connect the mBot to your computer through a dongle-based wireless connection.
How to send a simple command to the mBot.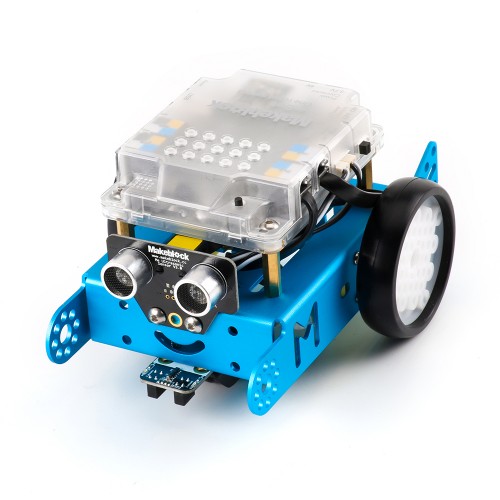 Before programming the mBot, you have to assemble it yourself.
The mBot is part of a wide range of robots and extensions which we will not use in this Code class. They enhance the fun factor, but do not really deal with programming.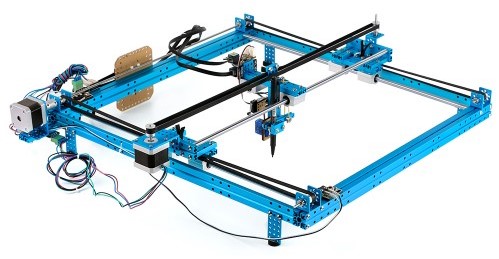 An mBot is a robot with an Arduino computer and can be programmed with the Arduino software. You can find this on http://www.arduino.cc.
However, we are going to work with mBlock. You will recognize Scratch in it immediately! So, our foreknowledge will pay off immediately!
We still opt for mBlock 3 in stead of mBlock 5. Why? mBlock 3 is more similar to Scratch, and mBlock 5 does not have the option (yet?) to choose for 2.4 GHz connection (a wireless radio connection). And it is precisely this connection that is great in a class: you always know which computer is connected to which mBot.
Do you have an mBot with a Bluetooth connection? If so, you can choose between mBlock 3 and mBlock 5.
Install the mBlock-software here

Does your school also use those old computers? Does the mBlock installation not work on them? Then try an older mBlock version. http://www.mblock.cc/previous- versions/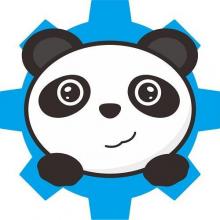 mBlock
Normally, mBlock will be installed in English by default. Once the programme is installed, go to 'Language' in the programme and select the language you prefer.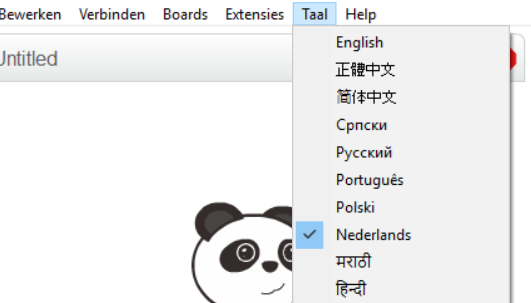 In the menu "Connect", select "Install Arduino software". You only need to do this the first time you use mBlock.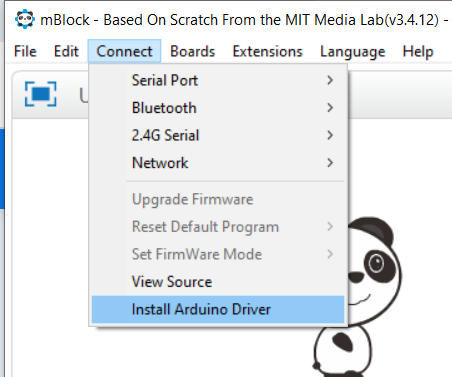 To assemble your robot, check the manual. You only need to do this once and it takes about half an hour. The manual is in the box!

Controlling your mBot with the remote control
The remote control included with the mBot allows you to test some fun functions. Switch on your mBot.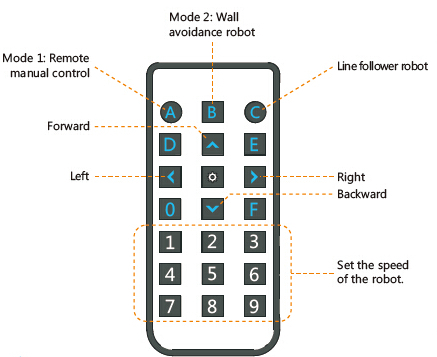 By pressing on the A button, you can control your mBot with the arrow buttons on the remote control. 
The B button will make your mBot drive automatically and will use the distance meter to avoid collisions.
The C button allows your mBot to follow a black line. For instance, you can use the track that comes in the box of your mBot.
It is also possible to make your own track. You can probably find the necessary building plans on Google!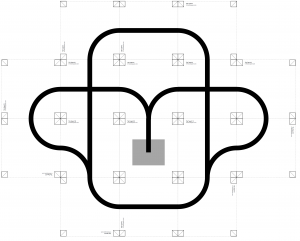 Note: our mBot is rather 'wild' and will swing the papers in all directions because of its wheels. Try to find a solution yourself to keep all the papers in place. (For example, we chose to put our grandmother's transparent plastic tablecloth on top of it!)

If you (or someone else in your school) have already installed your own programme on your mBot, then your remote control will not longer work. Connect your little robot to your computer with the USB cable. After that, choose 'Connect < Serial port' in the mBlock menu and then 'Restore default programme'.