mBlock 5
mBlock 5 is the updated version of mBlock 3.
All exercises of the second year are made in mBlock5.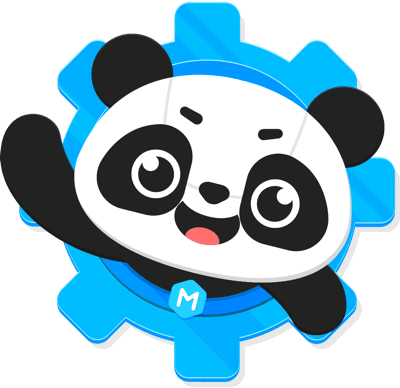 Saving or working online
You can work online with mBlock 5 or download the programme.
Visit this website for either: https://www.mblock.cc/mblock-software
We chose to download mBlock, because it doesn't require an internet connection.
The programme

mBlock 5 looks different than mBlock3. Everything got a little bit more colourful.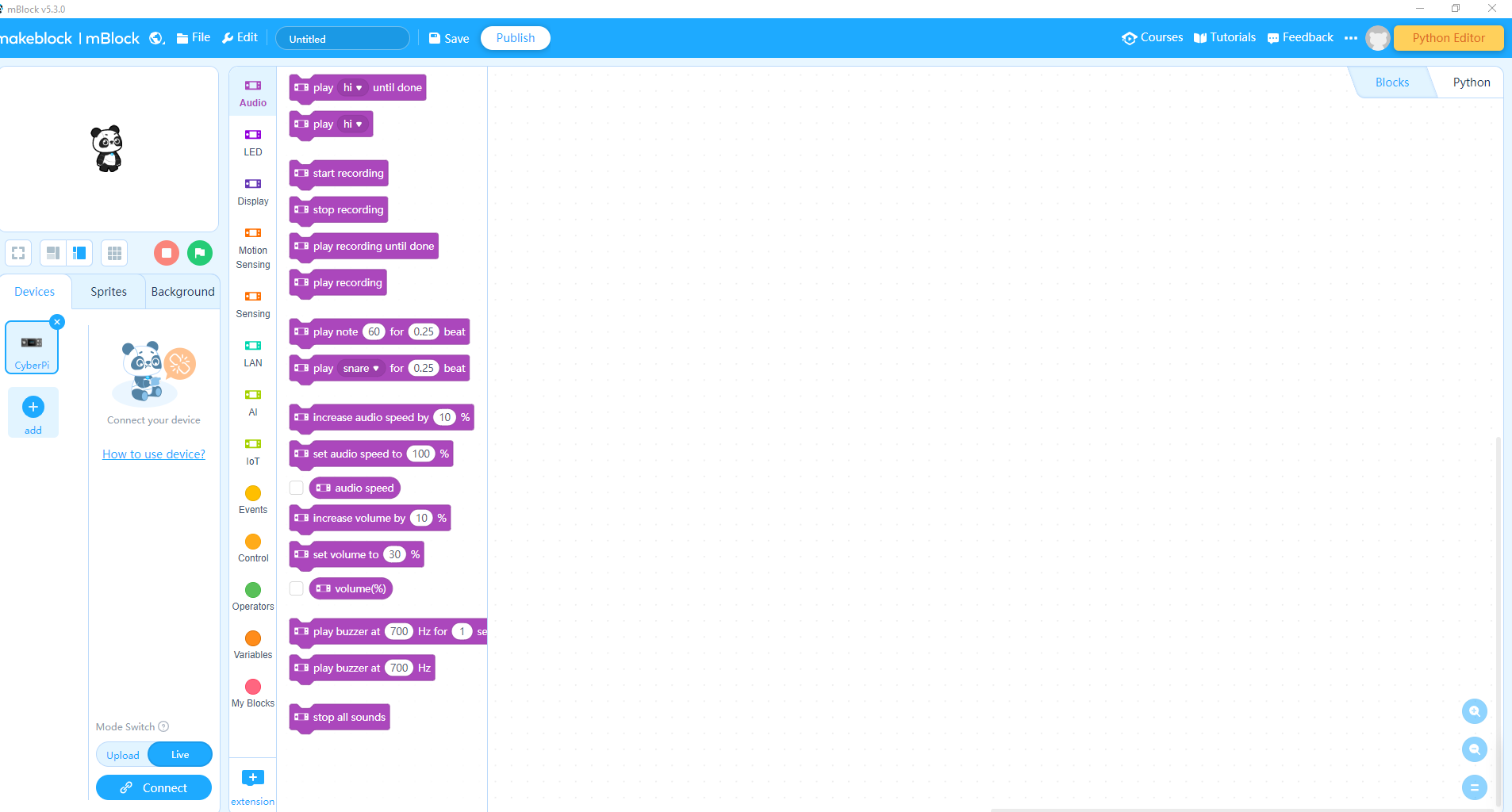 When you start, the default setting for your 'device' is Codey Rocky.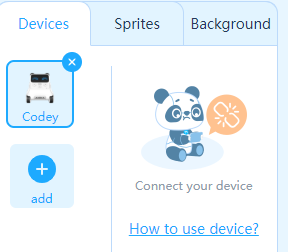 If you click on the little plus next to "Codey", you can add extra devices. You get to see a new screen with all of the possibilities.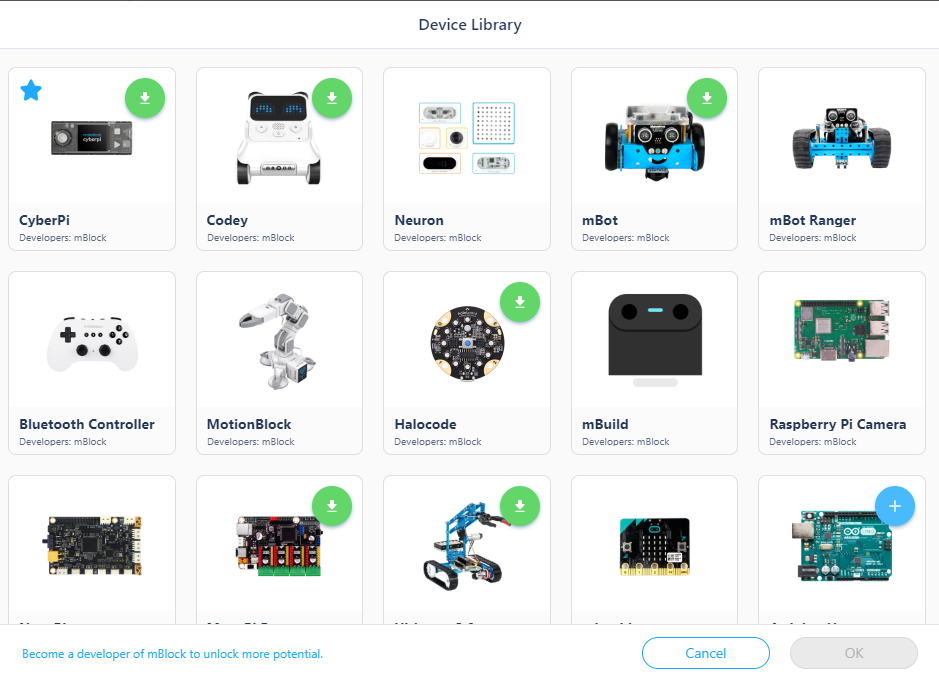 As you can see, there are a lot of different robots to add and to program in mBlock5. Select mBot and press "OK".  

You also can change your sprites and backgrounds, just like in Scratch. 

Connect the mBot to the computer 
There are two possibilities: with the USB-cable or by using Bluetooth. Making a connection with the 2.4 Ghz-dongle is not longer possible in mBlock 5. 
USB connection
That's our favorite! It's the most easy way to connect using mBlock5. 
Connect the mBot with your computer using the USB-cable. Turn your mBot "on".
Click "Connect".
Click "Connect" again in the pop up-window.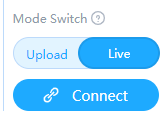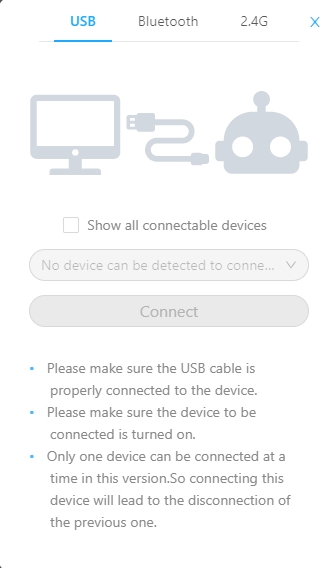 Bluetooth connection
You need an mBot with a Bluetooth-module on board. Not every mBot is capable to make Bluetooth connection: check your version.
Turn the mBot on.
Click on "connection" and choose in the pop up-menu "Bluetooth". 
Your computer starts detecting your mBot, click on "Connect".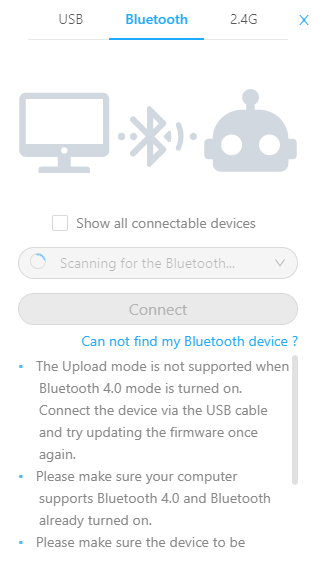 Program your mBot.
You can write a program and your mBot will directly execute it when you click the flag. But you als can upload a program to your mBot.  In that way your mBot can work autonomous from your computer.
The only thing you have to do is putting the mBot in the upload-modus.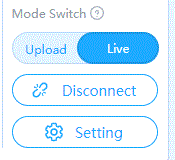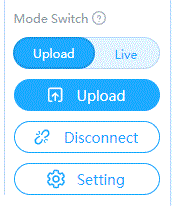 You can upload a program by pressing the button.
When you are in upload-modus, you can't click on some of the buttons.
Standard Mode: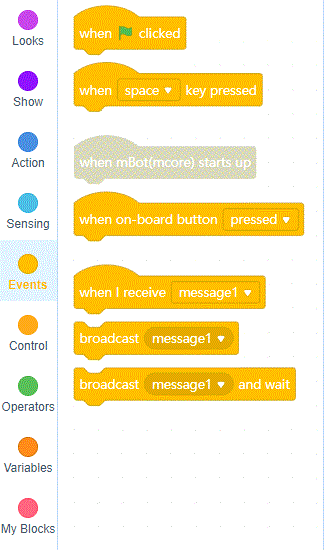 Upload-mode